Get The Accurate Edge for expert portable medical ventilator repair, including Respironics Trilogy and Resmed Astral ventilators. Many repair companies simply will not touch this type of equipment because of the critical nature for which this equipment is used. At Accurate Biomed, we have the expertise to handle life support equipment and assure you of the high quality standards of all of our portable ventilator repairs. Accurate Biomed's factory trained technicians can perform any necessary preventative maintenance or repair service required for your life support equipment.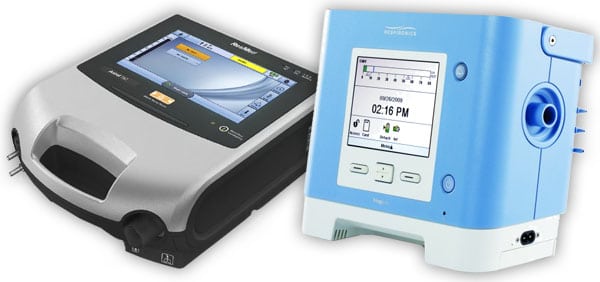 When you partner with Accurate as your Trilogy service provider for portable medical ventilator repair, your therapy specialists and business staff are complemented by a team that includes "hands on" device repair, PM services, logistical assistance, and asset management experts. In addition to our technical skills and long term partnerships within the industry we go above and beyond traditional service offerings. We call this the Accurate Edge which links basic PM, repair, and total asset management to support your equipment's lifecycle planning program.
Get 'The Accurate Edge' and reduce your total cost of operations for durable medical equipment. As the nation's largest respiratory repair center, we provide service to HME providers, hospitals and long-term care facilities of every size. Your equipment will be picked up, repaired, cleaned and returned patient-ready. Your equipment will be repaired by our rigorously trained, experienced staff in one of our three regional repair centers.
To learn more about portable medical ventilator repair,
e-mail us or call 1-

800-376-5660.
Your equipment will be cleaned thoroughly to protect your staff and patients.
Your equipment will be inspected and tested to ensure all defects are repaired and filters replaced.
Our Quality Control requires up to 24 hours burn-in to warranty our workmanship.
Unit will bagged and returned patient ready. No further prep is required.